On adapting to a complex world.
My next guest is Magnus Walker. He grew up in Sheffield England and dropped out of school to come to the U.S. and try the American dream. It worked out pretty good for him. Almost by accident, he started Serious Clothing and his stuff was worn by the likes of Madonna, Bruce Willis, and Alice Cooper.
He has loved Porsche's since he was a kid and started collecting and restoring vintage Porsche 911s. He was in a short film, Urban Outlaw, that was a big hit at the 2012 Raindance Film Festival. His newfound fame led to Porsche asking him to work for them 35 years after he applied to work there when he was 10. Magnus also wrote an autobiography – Urban Outlaw: Dirt Don't Slow You Down, about his rise and fall in the fashion industry. His TEDx UCLA talk is great.
In this episode we talk about how to be adaptive in a complex world, be open to options, and master your perspective not your plan. And just a touch of outlaw cooking.
More about Magnus at magnuswalker911.com/.
You can get the book at Amazon.com.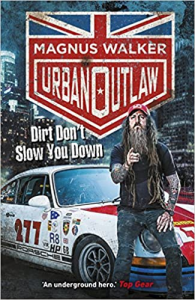 Get the latest in life navigation tools!